Update on a few ongoing reality TV shows.

Hell's Kitchen keeps on cussing and smoking. A new reality cooking show, Bravo's "Top Chef Vegas" premieres.

Lifetime's "Project Runway" has maternity wear and beach attire and narrowing down to a grand finale, "America's Got Talent" going down to a top 10 although Obamer will pre-empt it this coming week.

All with pics and video you'll find nowhere else on the Internet.
Pic of the Day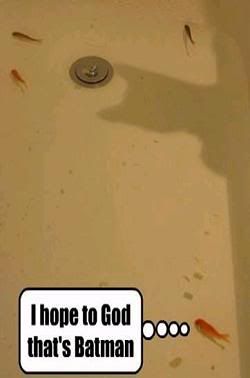 ---
Top Chef Vegas
Web site for this series.
Bravo's Top Chef Vegas slipped by with two full shows before I even knew it was running!
This is BravoTv's most successful series and they run several a year, each in different cities. I watched the two earlier shows and the one aired on 9/2/09. The same as always, there is a Quickfire challenge which often provides the winning contender a prize of some sort and always immunity from elimination for the elimination challenge.
The Top Chef Vegas competition began with 16 contenders, goodness this is just too much for yon average Blogger read by two to three people every day to track, especially with yon Blogger three episodes in arrears.
What stands out in my memory is the one contender from the Isle of Lesbos who got all in a snit over the elimination challenge. Said challenge being for all the contenders to prepare food for a bachelor AND bachelorette party.
This snippy little witch griped that it seemed unfair to require the contenders to participate in this elimination challenge what with THREE of the contenders unable, by law, to participate in the ceremony that normally follows such bachelor celebrations.
She was talking about gays getting married. Something most Americans think, silly, silly them, that should not be allowed because we have definitions of things for a reason. We don't let humans and dogs marry and we don't let two females marry and two males marry because we define a marriage as between a man and a woman.
Boo freaking who.
Anyway this nasty snit got sent packing on the episode aired on 9/2/09 so goodbye and moving on. We'll be following Top Chef Vegas on a bi-weekly basis until the competition narrows down a bit.
Hell's Kitchen
On the HK episode aired on 9/1/09, it was a typical cussing, screaming and smoking bonanza. The production and serving of sorbet in Hell's Kitchen seemed to be a big deal on this episode but I don't know why.
The girls won the initial blind taste test challenge but for the HK service on that episode the boys pulled in the win.
Tenille seems to be a focal point contender during this competition. These sorts of shows always have a controversial and colorful contender always popping up in various manners and situations.
Tenille is one such colorful character, always expressing an opinion on other contenders with no bother of tact and often duking it out with Chef Ramsey. This sort of thing is scripted. It keeps viewers interested in the drama.
This episode had Tenille, always an object of Ramsey's wrath, as being the heroine of the losing girl team. This fact had the tough-talking Tenille swelled up with great pride. Tenille was charged with nominating two females for elimination.
Suzanne and Sabrina were offered up for elimination by Tenille. Chef Ramsey nominated Amanda, something he does when whoever he has charged with nominating potential losers doesn't choose who HE would have chosen.
Sure enough Amanda got sent packing.
Lifetime's Project Runway
Site for the series HERE
I love fashion shows. I did review Bravo's Fashion Show a few times but once Project Runway got picked up by Lifetime TV I was on it.
Which is not to say that I am any sort of fashion icon, not having the body or youth for such a thing, but I like any show which features fashion makeovers or design.
So I review them although few folks read it.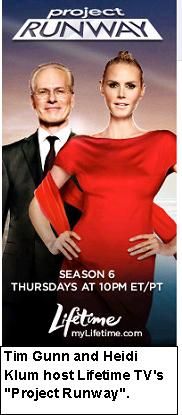 2009 Contenders for Project Runway
Christopher
Johnny
Louise
Irina
Ari
Nicolas
Mitchell
Shirin
Gordana
Carol Hannah
Ramon-Lawrence
Logan
Malvin
Qristyl
Epperson
Althea
Super model Heidi Klum and classy guy (insert an A for the U if desired in that word) Tim Gunn are hosts of the show and the show protocol pretty much follows fashion show protocol. A bunch of wannabe designers are selected to contend for the winning slot. The winner receives bunches of money and a chance to have an exclusive show of some sort. The first part of the hour has the contenders being given their challenge for the week.
For the show's first half hour we witness the contenders making their designs. While a viewer might get a glimpse of the fabric or design feature a contender is going to enter for the challenge, the complete frock is not aired until time for the parade on the runway.
Giving the viewer a peek into the various designs tends to keep the interest up; the viewer often wants to know what that thing's going to end up looking like as Tom Gunn asks questions about the design in progress while the camera only gives quick, secretive glances to the design in progress.
For the Project Runway episode aired on 8/27/09 the challenge was to design a maternity outfit for a modern pregnant woman.
A pregnant female in this early twenty first century does pretty much everything non-pregnant women do as might be expected. Mammals' bodies were designed to bear children as life goes on so outfits designed to clothe a pregnant female human need mostly to accommodate a big belly with no effort to disguise what it is. Looking pretty is definitely as important to the pregnant as to the non-pregnant but comfort and ease of movement is very needed.
The wannabe designers came up with some clever and attractive maternity wear. One designer came up with ugly shorts for his pregnant model and he got sent home for that ill-conceived effort. It wasn't that shorts were verboten for the pregnant but this contender's shorts were flappy, too short and of bad construction.
Two of the female contenders designed truly beautiful outfits. Shirin Askari won the design challenge for her handsomely smocked maternity dress with a matching coat. Louise Black came through with an almost negligee-looking maternity dress that was very feminine and pretty.
America's Got Talent-Five Go Through Out of Ten
And so when all is said and done it is the singers or singing groups that have the edge with this show. Of course this is not always the case but it is enjoyable watching the magic acts, interesting dance and exercise routines, pianists and other novelty acts until a singer or singing group eventually wins America's Got Talent.
This past week, on the episode aired 9/1/09 the following acts performed:
Kevin Skinner-bluesy type singer
Acrodunk-acrobat team
Grandma Lee-senior comedian
Arcadia Broad-classical pianist
Drew Thomas-Magic Act
The Texas Tenors-barbershop type group
Pardizo Dance-unusual novelty act
The Fab Five-dancing sisters from Utah
Voices of Glory-siblings sing in harmony
Tony Hoard-dog act
The following five made it through:
Kevin Skinner-bluesy type singer
Grandma Lee-senior comedian
The Texas Tenors-barbershop type group
The Fab Five-dancing sisters from Utah
Voices of Glory-siblings sing in harmony
Of the five that made it through on this episode, I'm not at all sure about Grandma Lee. She's 75 years old, has good comedic timing but how many jokes can you make about being old and having sex? And at age 75, how long can you keep on doing it?
The Fab Five is the clogging type dancing sisters from Utah. They're good, yes they are, and they practice hard any viewer can see this. But a winner in this thing? I just don't see it.
Below, still performing in the 2009 America's Got Talent Competition:
Kevin Skinner-bluesy type singer
Grandma Lee-senior comedian
The Texas Tenors-barbershop type group
The Fab Five-dancing sisters from Utah
Voices of Glory-siblings sing in harmony
FootworkZ-an "urban" dance team
Jeffrey Ou-pianist
Hairo Torres-single dance act
Lawrence Beamn-bass singer beautiful and unique voice
Mario and Jenny-novelty fire act
Barbara Padillo-opera soprano singer, cancer survivor
Eric and Rickie-preteam dance team
Drew Stevyns-singer
Recycled Percussion-novelty act plays drums on trach
EriAm Sisters-sister song and dance team
Below a remix of the winning acts from this episode along with mine own fine commentary spliced directly onto the video for reader rumination.