TV Reviews of Hell's Kitchen where Chef Ramsey keeps cussing the wannabe chefs keep smoking.

Also a dark horse HGTV reality contest for interior designers…."Design Star".

And as "America's Got Talent" rapidly gains as a challenge to "American Idol" it now has a final top 20.

First guess at the top five here with pics and video you'll find nowhere else on the Internet.

Pic of the Day
---
"America's Got Talent" 2009 Down to Top 20
This reality competition show is growing in popularity, thanks in no small part to Susan Boyle.
The show began in Great Britain and the American version is produced by Simon Cowell of "American Idol" fame.
Actually I enjoy this show way more than American Idol for the diversity of the talent, the outrageousness of some of the acts and I quite like that you never know just what kind of talent act is going to win the thing.
On the show aired on 8/19/09, the acts were indeed diverse and the ones voted through were quite surprising.
Two dance acts were featured, one a group called FootworksZ, a so-called "urban dance team" and the other a single dancer, a fellow named Hairo Torres. Both of these acts were voted through into the top 20.
I'm really not of a mind that a dance act will win this thing but that might be my own prejudice. Now Hairo Torres, featured as part of the remixed video below, is enough of an intriguing dancer what with dancing on the wall and everything, that he might win this thing. If nothing else, both of these acts make fine introductory type of vehicles for a more major performance.
Jeffrey Ou is a young pianist and we've got a couple of pianists in this year finals. Jeffrey will be competing against a younger Arcadia Broad if a pianist were to win this thing, which I think not.
Mario and Jenny are one of the most unique novelty acts in the top 20 this year. They like to dabble with fire and while there's always a bevy of fire and other "dangerous" type of acts in the initial and zany phases of this competition, this particular act is quite good and could, as a dark horse, sneak through to win this thing.
Lawrence Beam is a singer. Singers are a dime a dozen on this reality contest show, most of them coming in at very young or over the age limit allowed on American Idol you should note. Lawrence Beam, however, has quite a unique voice, a very deep baritone that is so unusual that once heard will stop many in their tracks.
Lawrence Beam could possibly win this thing but in the realm of solo singers he's got one mighty competitor, a cancer survivor, who I think will edge him out, more on this later.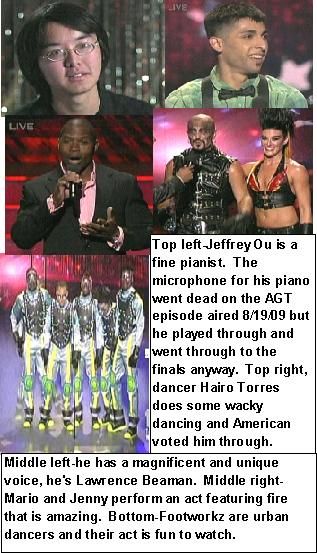 Below a remix of the acts described above, with mine own fine commentary written upon, of course.