Catching up on some big TV events this week.

First, we have the final 12 boys and girls on American Idol 2007. Pics of all and notes on who to watch for.

Also, the Grammies 2007…heh. Some pics and some snide comments, as expected of me.

And yes, we are keeping up with Apprentice LA although no one else in America is. This report a real honey.
Pic of the Day

---
Quote of the Day


I don't know what you could say about a day in which you have
Seen four beautiful sunsets. -- John Glenn after orbiting the earth
Web Site Worth the Visit
United States Geography

Here's a neat game and good for the school youngsters. Take the shape of a state and "drop" it where it's supposed to go.

CLICK HERE


TIDBITS

RANDOM TIDBITS ON DOLLS

Barbie doll has had more than 80 careers -- everything from a rock star to a paleontologist to a presidential candidate.
***
Barbie Goes to College was introduced in 1964.
***
Quinceanera Teresa doll was released in Mexico in 1994 to celebrate Girls Day.
***
There has been some controversy over Barbie's figure when it realized that if Barbie was a real person her measurements would be an impossible 36-18-38.
***
Barbie doll has five sisters, Skipper, introduced in 1964, Tutti, a twin introduced in 1966, Stacie in 1992, Kelly in 1995 and Krissy in 1999.
***
The Barbie doll was invented in 1959 by Ruth Handler (co-founder of Mattel), whose own daughter was called Barbara.
***
Doll collecting is second only to stamp collecting as the most popular collecting hobby in America -- Barbie doll is collected by women, men and children around the world.

The Grammys 2007
I have absolutely no comment on the 2007 Grammy Award show that anyone would want to read. Except, perhaps, a note that the disgraced Dixie Chicks seem to have friends in the record industry and this group received a bunch of awards. Not bad for a singing group whose records nobody buys. I suppose the Chicks think this will boost their career when all they really had to do was keep their big mouths shut. I don't think it's going to help unless the Chicks change music genre. Because country-western music fans across the fruited plain are not going to buy Dixie Chicks' records...period.
You can lead these hard-headed country-loving folks to water but you CAN'T make them buy.
Beyond that, below some links of interest and some pic montages you'll find nowhere else on the Internet.
CBS' Official 49th Grammys Award Site
2007 Grammy Winners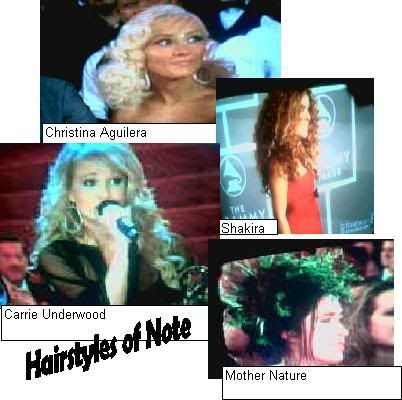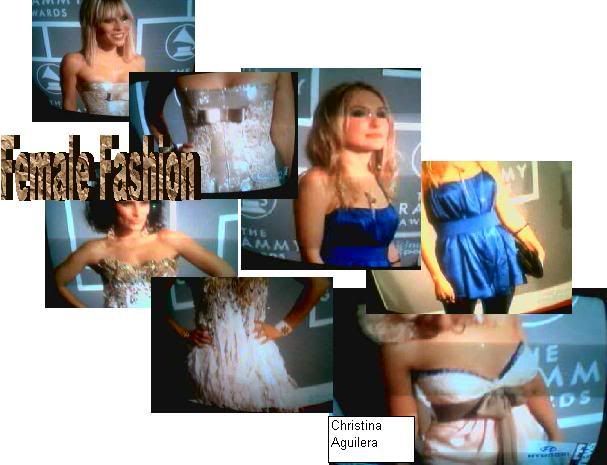 The Apprentice LA-A "Honey" of a Task
This year's Apprentice continues on and still we have the mansion versus the tent thing going on. And STILL it is a twist to this reality series that I do not like one bit. All this being said, The Arrow team had been in the mansion for finally winning a task but this would not last long. The teams' task the week of 2/11/07 was to work with the Sue Bee Honey company, harvesting, bottling and selling honey in Ralph's supermarket. As always, the team that sold the least would be declared losers, would be banished to Tent City and someone on the losing team would be fired.
Aaron was project manager for Arrow while Aimee was project manager for Kinetic. The Kinetic team used one of their team members, Angela, to help sell the honey. Angela is an olympic gold medalist and what better representative to sell honey than a finely toned human being who, or so the buyer might assume, consumed lots of honey and got big, healthy and strong?
Arrow sold 217 jars of honey to bring in $718. Kinetic sold 345 jars of honey to bring in $345. Thus, the Kinetic team won this task.
The Arrow team did try some new and daring things, including an attempt to sell honey in bulk. This did not work and I'm not surprised. People aren't likely to buy large quantities of honey to keep on hand. Honey is something not used all that much in daily cooking or meal prep. The winning team was rewarded with a behind-the-scenes show of Lakers basketball.
The pic text below is WRONG. Surya did NOT get fired. Aaron was fired for the Sue Bee honey task.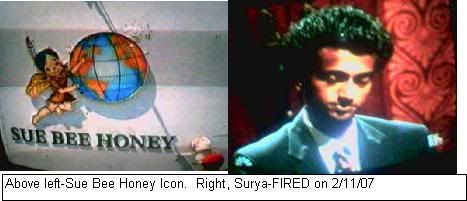 What was intriguing about this boardroom meeting was how team Arrow jumped all over Surya, a fellow who VOLUNTEERED to join them from the Kinetic team. First chance, the entire Arrow team tries to throw Surya overboard.
Donald Trump had real issues with Arrow team leader, Aaron. Trump complained endlessly that Aaron didn't give him much feedback after the last task and implicit with Trump's complaint was his concern that Aaron might be a bad communicator.
Also, that little love affair between Nicole and Tim was exposed at this boardroom showdown. This romantic angle presents lots of dramatic possibilities later in the season. Because what happens when, say, a team leader Nicole has to vote to fire her beloved Tim?
Trump fired Aaron over his failure with the honey task and the Arrow team once again claimed the cots in Tent City.
American Idol-The Final 24
Just a few comments on the 2007 American Idol competition now that we're down to the top twelve males and females.
Official American Idol Site HERE.
I have two contenders for this 2007 series to watch out for. In the female finals, Jordin Sparks is the one to watch. For the male finalist, there is no doubt in my mind that the most talented guy, and definitely a top five finalist, is Blake Lewis.
Three interesting contenders were eliminated. Two were members of the American military, a female and a male. One was a very tall female, over 6', that I was sure would move on.
Below, the final 24, males AND females.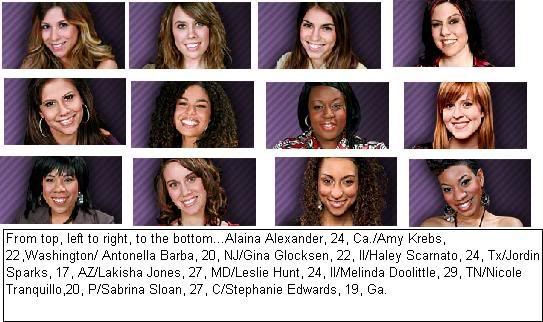 Stick around because we'll have voice and style critiques as the finalists above perform.
AMERICAN IDOL 2007 LINKS
Seattle and Minneapolis 1/16/07 and 1/17/07
Birmingham 1/30/07
San Antonio 2/6/07
The Top 24 2/12/2007
APPRENTICE 2007 LA LINKS
First Show 1/7/07
Swimsuit Task 1/14/07
Michelle Quits 1/21/07
Pollo Loco
The Honey of a Task
More TV Reviews HERE
===============
Add POST to Technorati Favorites
=======================