The judges missed a dirty word the new Miss America uttered during her song in the talent competition. We have it, on tape!

Review of Fox's new "Lie to Me". Guy gets paid big bucks for doing what we all do every day in the course of our humble lives.

A pic of a genuine Jack Bauer lookalike and he's a member of my family.

Finally, my own fashion awards for the SAG awards.

All with pics and video you'll find nowhere else on the Internet.
Pic of the Day
---
Fox's "Lie to Me"
Fox's Site for this series, quote below.
Dr. Cal Leightman heads up a private agency contracted by the FBI, local police, law firms, corporations and private individuals when they've hit a roadblock on their searches for the truth. Joining him are the foremost experts in the field of behavioral psychology: DR. GILLIAN FOSTER is the doctor's professional partner and intellectual counterpart, a master of deception equally comfortable with lying and concealing her emotions; the other is Dr. Leightman's lead researcher WILL LOKER who says everything on his mind and seemingly lacks the ability to lie. RIA TORRES (Monica Raymund), the newest member of the team, uses her natural and uncanny ability to read body language to catch the clues that her professional partners miss.

Let me state right now that I did not watch the second episode in this new series. Let me state right now that while the premise of this series held an intriguing lure, I was disappointed at how very lame the story lines were. Let me state right now that this series will not be long for this world if something unique and different doesn't happen with the storylines.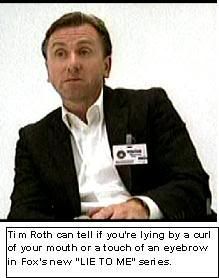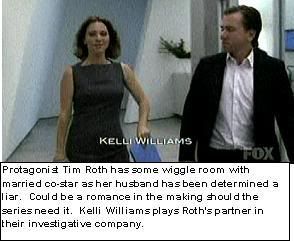 The biggest disappointment was my discovery upon my first eager watching that Dr. Leightman's so-called stellar lie-detecting skills were nothing much more but stuff every one of us walking this planet do every damn day in the course of living our lives.
And those of us who have children, goodness, we make Dr. Leightman look like a piker.
So what was I expecting, if we can deal with this first? I don't know, I thought maybe Leightman would have some special skill that none of us have, like a flash bolt shining across his face at the sound of lies. Instead, the camera will pan to close-ups of a special movement of the alleged liar's hand, a zoom in on a raised eyebrow, a close up of a pursed lip. Well hell's bells, anyone can do this.
Now I understand that reading of such physiological signs might be a skill and like everything else, practice makes perfect. Thus Dr. Leightman is likely better than us average joes save maybe those of us with children.
Kids, come on, they avert their eyes downward, they shuffle their feet, they give out all manner of physiological clues that they're lying to us, their parents who have learned through the years that that tug of a cowlick means the little rascal really did have a friend over after school against house rules.
Dr. Leightman has merely, at least as the scripts currently air, learned to read these signals in adults that are not his children. With practice any one of us could do it. And that's the let down.
The clues are just too obvious. I am not convinced that someone trying to lie would be clenching fists so ostentatiously. The camera goes out of the way to show the viewer the same clue that Dr. Leightman sees. And it's either too damn obvious or not believable.
I have no idea what the other stars on this series do. One is a young fellow who allegedly can't tell a lie. The other is a former TSA agent who is very good at noticing the same sorts of things as Dr. Leightman and his partner.
Which brings me to Dr. Leightman's partner, Dr. Gillian Foster. She's married, but even at the first episode broad hints were dropped that her husband was a liar, something you'd think a partner in a lie-detection firm would detect. Dr. Leightman covers up for the lies of Foster's husband and so the viewer gets a hint that Leightman's feelings for Foster might be more than business-like.
I suppose this quasi-romantic angle should pull in female viewers.
By me, neither male or female viewers are going to stick with this rather mediocre story line.
Below, a really lame scene from the first show that illustrates the obvious.