Along with the final of American Idol, this past week featured the final of ABC's Dancing With the Stars and The Bachelor.

So who can dance the best? Who did Andy choose to marry?
Pic of the Day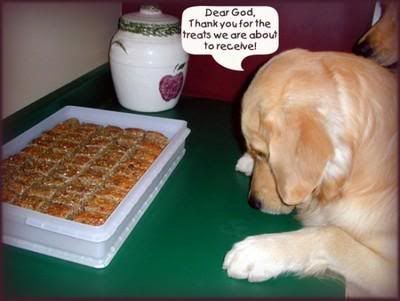 ---
Quote of the Day


Patience is power. Patience is not an absence of action;
rather it is timing; it waits on the right time to act,
for the right principles and in the right way."
- Fulton J. Sheen



Web Site Worth the Visit
Songs of the Sixties

I was a dewy-eyed liberal and protest songs were the music du jour. Check out this site which will take you back to a confusing and changing decade.

Featured Web Site HERE



TIDBITS

Did I read that sign right?
TOILET OUT OF ORDER. PLEASE USE FLOOR BELOW.

In a Laundromat:
AUTOMATIC WASHING MACHINES: PLEASE REMOVE ALL YOUR CLOTHES WHEN THE LIGHT GOES OUT.

In a London department store:
BARGAIN BASEMENT UPSTAIRS

In an office:
WOULD THE PERSON WHO TOOK THE STEP LADDER YESTERDAY PLEASE BRING IT BACK OR FURTHER STEPS WILL BE TAKEN.

In an office:
AFTER TEA BREAK, STAFF SHOULD EMPTY THE TEAPOT AND STAND UPSIDE DOWN ON THE DRAINING BOARD.

Outside a secondhand shop:
WE EXCHANGE ANYTHING - BICYCLES, WASHING MACHINES, ETC. WHY NOT BRING YOUR WIFE ALONG AND GET A
WONDERFUL BARGAIN?

Notice in health food shop window:
CLOSED DUE TO ILLNESS

Spotted in a safari park: (I sure hope so):
ELEPHANTS PLEASE STAY IN YOUR CAR.

Seen during a conference:
FOR ANYONE WHO HAS CHILDREN AND DOESN'T KNOW IT, THERE IS A DAYCARE ON THE 1ST FLOOR.

Notice in a farmer's field:
THE FARMER ALLOWS WALKERS TO CROSS THE FIELD FOR FREE, BUT THE BULL CHARGES.

Message on a leaflet:
IF YOU CANNOT READ, THIS LEAFLET WILL TELL YOU HOW TO GET LESSONS.

On a repair shop door:
WE CAN REPAIR ANYTHING. (PLEASE KNOCK HARD ON THE DOOR - THE BELL DOESN'T WORK.)


Dancing With the Stars 2007 WINNER!

The winner was, as yon reader likely knows by now, young Apolo Ohno. A not surprising winner as, duh, this Olympic athlete was the best dancer of the lot.
On the last evening of competition, 5/21/07, each couple performed two dances each. Each couple did a free style routine, an appropriate choice given the creativity allowed by this dance. For their second dance, each couple was charged with choosing a particular dance that they performed in a past show this contest season and re-doing it again exactly as before. The logic being, I must assume, to allow the viewer to see how much the contenders have improved in their dancing skills.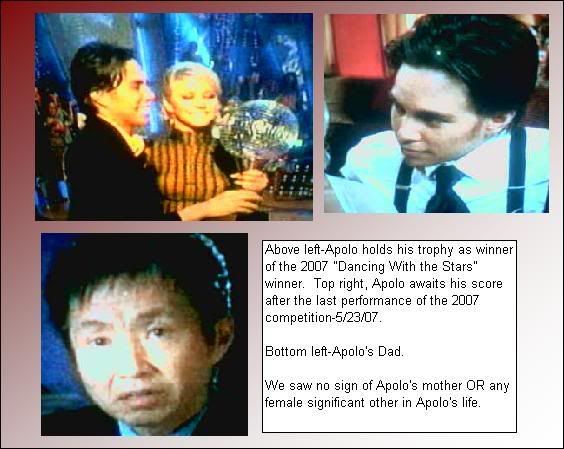 Apolo and his partner chose a Rumba performance danced to the tune of "Midnight Train to Georgia". As always, Apolo had fine moves although the judges were a bit rough on this winner. One declared the dance was "over-performed" and elder wise man Len stated the performance "lacked romance". Apolo came back for his freestyle routine and wowed this viewer with a performance that included some modern moves along with those learned along the way.
Joey Fatone has come a long way during this competition. For one thing, he's lost a bunch of weight, something that would please most of us.
Joey and his partner performed a Cha-Cha for their repeat dance. Joey did a great flip for a fellow who's not all that small. I couldn't help but mentally note that though Joey dances very well, he's just built too big and clunky to ever be believable as a professional dancer.
The judges declared the Cha-Cha just didn't look like a Cha-Cha and elder Len said the performance was "too theatric".
Laila performed a Paso Doble for her and her partner's repeat dance. This is a dance I'll never quite understand and I often wonder they bother with a dance no one even knows about all that much. Laila is pretty and Laila worked hard during this competition. I was impressed with how this self-admitted big woman handled herself so well. She even declared during a pre-dance vignette, that she's a big woman and she's not going to be tossed hither and yon as if light as a feather. Which was fine with her as she didn't have all that much trust that he so charged would manage to catch her. Heh.
Anyway, Laila got voted off first thus she finished in third place. Laila professed to be "pissed" with the result but she shouldn't be. This year's competition was particularly rough on the women. Women were voted off that show long before men who were far worse were left standing and still in the competition. For Laila to have made it up to the top three is a major compliment to her dancing skills. IF this year's contest hadn't been so damn skewed against female contenders Laila likely would have came in second.
Neither Joey Fatone or Laila could have beat Apolo as this is a kid born to dance. Or ice skate, as the case and occasion may be.
DANCING WITH STARS POST LINKS
OPENING NIGHT
Quick Step and Rumba Night
Ten Down to Nine
Nine Down to Eight
Eight to Seven
Seven Down to Six
An old-hand Sent Home
Joey, Laila, Apolo or Ian?
The WINNER Dancing With the Stars 2007
The Bachelor 2007-"An Officer and a Gentleman"-Andy Baldwin-Finds His Life's Mate
And her name is Tessa.
Okay, so I've smirked my way through this reality series and allow me to note that this is not any sort of show I'd follow through the weeks save the show followed ABC's "Dancing With the Stars" and what with American Idol in full bloom, I was in a frame of mind that allowed reality shows, even stupid ones, to occupy my mind.
Yes I think the concept of a Bachelor seeking a female for an eventual real or intimated permanent relationship to be a bit dumb. Reality shows are, by their very nature, very "staged" affairs. In other words, much of the "reality" us idiots out here in la-la land witness is more acting than real.
But okay, I understand this and in most cases, the politeness and stiff solliquies given by partcipants to lone cameras does give off some notion of how the contender feels. With the Bachelor premise, I get the distinct feeling that the politeness and soft words are nowhere near the reality any situation involving a single male cavalierly picking and choosing his "choices" out of a couple of dozen women would bring. In the real world where I live, half of those women would throw down the gauntlet and slam the door on their way out. The other half would be scratching each others eyeballs to shreds either literally or verbally.
Yet I follow the "competition" and I either giggle and/or marvel at this convoluted presentation of normal human behavior.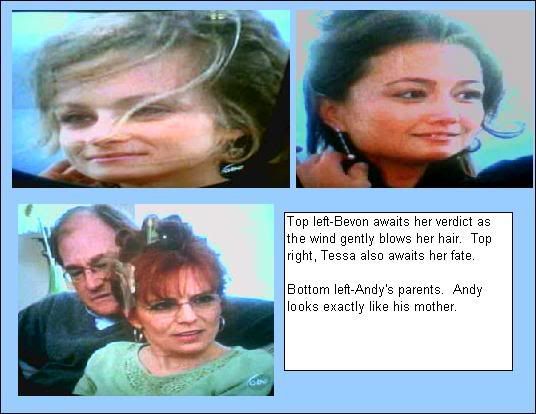 Give me credit, like most other female viewers I had one I disliked intensely and thank goodness Andy Baldwin, this year's Bachelor and "catch" extraordinaire, took my advice. Heh.
For that Bevon woman was a total dingbat not to mention her penchant for constant tears. At times I wanted to reach into the darkness of the TV world and punch that woman's lights out. Add to this the fact that she'd been married before although I suppose this is allowed as she was a legal entrant on the series.
In the last night of the competition both women were taken to meet Andy's family. To my complete surprise, I discover that Bevon is, gasp, a sex therapist? Heh. Andy's parents live deep in the heart of conservative Pennsylvania Dutch country. This little revelation had to be a shocker although why am I not surprised that the constantly emoting Bevon is a sex therapist?
Andy's grandfather pointedly asked both Bevon and Tessa about their religious affiliation. Evidently this was important, at least to the grandfather. Got to hell if Bevon didn't say she'd been raised in some off-the-wall religion called "bahai" if I'm even remotely spelling this right.
This so-called religion sounds like some kooky far eastern religious type of thing that hippies of my era adopted and raised their children in. It's nuts and hey, it's probably why her name is Bevon for God's sake.
No I didn't like Bevon but Andy did obliquely suggest to his parents, in proper terms of course, that Bevon set off electrical sparks in him that Tessa did not. Well gosh, the ever-crying kookoid is a SEX THERAPIST for God's sake. A self-proclaimed sex therapist mind you because Bevon's explanation as to her career was very vague and peppered with terms that obsfucated rather than explained.
So yes I'm glad ole Andy chose Tessa but truth be told, I'm a bit ashamed of Tessa for putting her pride aside to find a fellow in this manner. Yeah, I know it's showbiz but this is just not how it's done.
BACHELOR 2007 LINKS-Officer and Gentleman
Let the Roses Begin
Wiggly Jiggly Boob Night
Down to Nine
Three More Gone; Down to Six
Three Left...On to the Folks
Tessa or Bevon?
THE WINNER BACHELOR 2007 AND ANDY BALDWIN'S NEXT WIFE
More TV Reviews HERE
===============
Add POST to Technorati Favorites