Three TV reviews: "Desperate Housewives"; "Parenthood"; "Brothers and Sisters". All are stories of families and with a little imagination, our own families could be major TV shows. One is getting old, one is still new and fresh, one would be nowhere without another of the three.

Pic of the Day
---


NBC's "PARENTHOOD"
Cast:
Bonnie Bedelia-Camille Braverman

Tyree Brown-Jabbar Trussell

Joy Bryant-Jasmine Trussell

Max Burkholder-Max Braverman

Erika Christensen-Julia Braverman-Graham

Lauren Graham-Sarah Braverman

Miles Heizer-Drew Holt

Sam Jaeger-Joel Graham

Peter Krause-Adam Braverman

Craig T. Nelson-Zeek Braverman

Monica Potter-Kristina Braverman

Savannah Paige Rae-Sydney Graham

Sarah Ramos-Haddie Braverman

Dax Shepard-Crosby Braverman

Mae Whitman-Amber Holt

I'm not sure just how this series would be classfieid. I consider it in the same league as "Desperate Housewives" and "Brothers and Sisters"-both also reviewed further down.
Seems if I'm not watching reality shows I'm into shows like this, melodramatic, "chick flick" sorts of things. Some might consider them night time soap operas. That description is not lost on me.
Of course to get involved in these sorts of television shows, one must watch a few times, gain some sympathy/compatico with the characters and their situations.
PARENTHOOD is a story about a family…the Braverman family. The elder icons of this family, Zeek and Camille Braverman, are not, as many family dramas would depict, happy citizens living out content retirements while enjoying their children and grandchildren. Instead this couple, more than their own younger and wilder children even, are struggling to avoid a divorce. This struggle is part of the show's weekly drama.
The other Braverman children include a female attorney with a discontented and irritable house husband, a son who is an executive at a shoe factory, a daughter who now works at the same shoe factory as her brother and who is, via various workplace attractions, seriously showing up her brother, and a son who produces music and lives on a houseboat.
Each of these children have spouses/significant others, children and issues. One daughter returned home to live with her parents with her two children. One son has a son with Asperger's syndrome and many shows revolve around this odd malady. Another son discovered he had a son from a prior relationship which he knew nothing about.
That's it.
A family, dealing with life, pretty much as us viewers live our lives.
If I were to announce that a new series will be coming out about a family that includes a daughter who recently suffered a horrific stroke and now must deal with the nasty results, another daughter who struggles with an ailing husband and that stroke-ridden sister from whom she is estranged, a brother who ran from the law for the death of a baby that seemed illogical/strange and another half brother who once lived a prosperous life and now lives on the streets.
Well it could be a series about my own life in fact and given some artful writing, some good dramatic interaction, actors with some talent….it too would be watched with dedicated interest across the fruited plains.
Try it with your own life. Just change the characters, their names and stories to match your own family and you too can have a hit drama series.
"Brothers and Sisters"
A summary from ABC's web site regarding the premiere of this year's "Brothers and Sisters" series.
It's been a year since the Walker family was torn apart by a tragic car accident, and in a very un-Walker like fashion, everyone has been avoiding everyone else. Truths and reality only start to set in when the family is forced to come together for Justin's homecoming party: Nora tries to prepare for the party, but is not acting like the mother she used to be; Sarah is consumed with the Narrow Lake deal; Kevin has a new career as public defense attorney; Saul and Scotty are running their restaurant; and Kitty's life has become a taboo subject for everyone. Time has changed the Walkers, on the fifth-season premiere of "Brothers & Sisters," SUNDAY, SEPTEMBER 26 (10:01-11:00 p.m., ET) on the ABC Television Network. (ABC/RICHARD CARTWRIGHT) DAVE ANNABLE, SALLY FIELD, RACHEL GRIFFITHS, MATTHEW RHYS, CALISTA FLOCKHART
ABC's web site for this series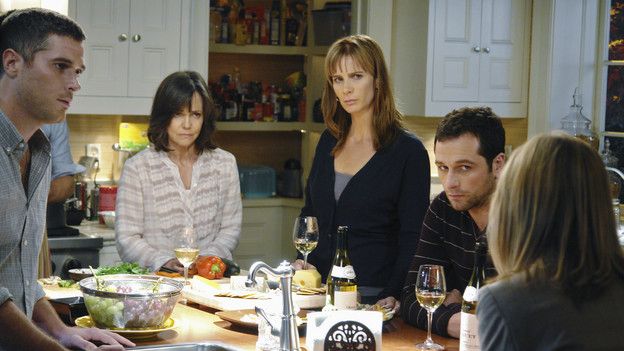 One of the "problems" of a dramatic series continuing on from year to year is the need for additional drama once the initial public fascination with the characters and storylines is jaded. There is then required an introduction of new characters and to keep the viewers coming back, storylines must get more dramatic, thrilling, intriguing and/or compelling.
So far "Parenthood" has not had to introduce such as tornados, earthquakes and awful car crashes to the storyline. "Brothers and Sisters" did have to write in a horrific car crash that left one major character in a year long coma until his wife finally pulled the plug. Another character got such bad brain damage that she does not recognize her own daughter. As indicated in the introductory blurb above, many characters have had their lives changed on "Brothers and Sisters" last year .
I do enjoy this show though I have some major issues with some of the storylines in terms of unbelievableness and the show's extreme liberal bent. It does enjoy a wonderful time slot right after "Desperate Housewives" on Sunday nights. Without that time slot I doubt this show would ever have gotten off the ground.
First, Sally Field is a terrible actress, I'm sorry, the woman should have stuck with being a flying nun. She plays the part of the Walker family matriarch in the show and does okay as a busybody in all of her children's lives. But her character is such an absurd liberal, as is Fields herself I suspect.
One year she had an unreasonable hatred for the American military and what it had allegedly done to her son. Said son who VOLUNTARILY joined the army, might I add? Last season this son signed up for the army again. He left his pretty wife and went to Afghanistan, a story line that made no sense and a scenario as unlikely as anything that might happen in the real world. The storyline allows dopey liberal Mrs. Walker to gripe about the awful military and its damage to her son.
This show has a whole bunch of homosexual storylines and it gets old. Almost every show nowadays has a homosexual somewhere in the story, be it comedy or drama. These homosexuals show up more on television shows than exist in real life but hey, it's Hollywood, a haven for our homosexual brethren.
Sally Field's character's brother is a homosexual and had been in the closet his whole life. One of her sons is also a homosexual and the story of this "brother" and his "wife" is a staple of this series.
It would seem that the father of this clan, now dead but who turned out to be quite the man-about-town, having illegitimate children all over the place, purchased a piece of land before his death. Many of last year's storylines revolved around just where this land is and what is the allure of it.
It would turn out that the land is situated over an aquifer and for some reason that I don't quite get, is worth lots and lots of money.
I've had two wells dug directly into an aquifer and I don't pay anybody any kind of royalties or anything. It's water under the earth and it belongs to whoever digs down to get it. But hey,it's California, maybe things are different there.
Despite this land, or the water underneath, being worth many millions as the business "sister" has determined, still Walker matriarch Nora had to get a job in a flower shop and the money has been put somewhere where nobody can get to it, it's not clear why.
I suspect it wouldn't do to have the Walkers suddenly become ridiculously wealthy so they had to get the big money, which did make for a bang-up ending last year, out of the way for storylines that would appeal to us great unwashed out here who might not identify with wealthy people and their travails.
In spite of my issues with this show, I must note that the episode aired this past Sunday, on 10/10/10, was very well written and extremely…well yeah, it was funny.
Kitty, Calista Flockhart's character, was the wife of the guy who had been in a coma and she recently had to pull the plug to send him to his peace. For reasons that baffle me, she's decided to go to some kind of farmhouse and live for a while, to "find" herself.
She meets a male neighbor who attracts her. He is disdainful of big city folk so Kitty pretends to be the humble home's owner and offers to prepare the fellow a simple meal. Seems Kitty has little experience making soufflés and the thing falls and her lies are discovered and yes, it was a smile.
Her older sister, Sarah, has a birthday, her 40th, or so her very, very handsome boyfriend believes. Sarah is older than 40, however, and her attempts to keep this a secret from her younger stud fellow is a funny tale when added to the stories of her mother, and other brothers and sisters who too must keep the secret.
Matriarch Nora is considering some plastic surgery and before the hour ended the entire Walker clan was a big mess, what with lies about age, fallen soufles and boobs that no longer stay up and perky.
It was very good writing, much improved this year.
Hang around after "Desperate Housewives" and enjoy this show with its greatly improved scripting.

"Desperate Housewives"
ABC's web site for this series.
What has NOT happened on "Desperate Housewives"?
Wisteria Lane has been hit by a tornado. Cancer attacked one of the show's main characters. There's been murders and car accidents, divorces, marriages, and divorces of divorces. Characters have come and gone.
This show has been around for many years now. I only became an afficiando in the past three years. Much of what has happened before was before my viewing time.
I recall Tom having a daughter by a prior relationship. Her mother was a nasty one who was killed by gunshot as my memory serves.
Well you gotta kill these characters off from time to time, it's the nature of the beast.
In this year of our Lord, 2010, we have two more characters entering the Wisteria Lane ring. One is Vanessa Williams in the character of Renee Perry. The other new character is named Paul Young. As I understand it, Young is a former denizen of Wisteria Lane who was charged, erroneously as this year's storyline would so far suggest, with the murder of a Martha Huber, another former denizen of Wisteria Lane.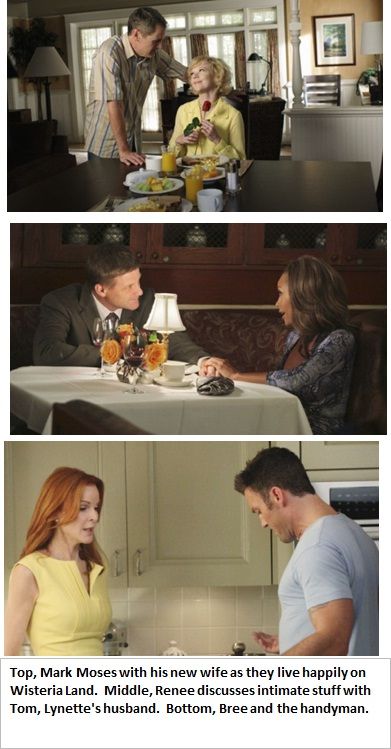 So far the stalwart Desperate Housewives still living on Wisteria Lane include Lynette and Tom, a couple that once owned a pizza parlor but now make big bucks in the corporate world. Lynette is very fertile and recently gave birth despite that horrific bout with cancer.
There's Gabby, a former fashion model, now this year allegedly mother of a daughter who isn't hers, who was switched on her at birth. Gabby and her husband have two daughters although once upon a time this couple actually hired a surrogate to have a child for them. Plus you never see the youngest daughter, only the fat child. Now there's a child actress who is heavy and plays a fat child on the show, how awful this must be.
There's the plumber and the Internet striptease artist, the older woman who manages to insinuate herself in all story lines, the pair of homosexuals who share a home on Wisteria Land cause you always gotta have one homo couple on the show now don't you?
I love "Desperate Housewives". I have loved this show since the first time I watched it sometime in 2007. The storylines are great, the characters constantly change, there's sub-plots in every show and there's a dark humor underlying it all.
At this point though, you do have to smile. So much has come and gone and characters have changed and interacted and storylines have intermingled and murders happened and, well hey, you really have to take each year on its own.
To the Main Blog...Over a Million Page Views
===============