Four reality shows reviewed here.

Mostly there's a bevy of great pic montages and yes, actual videos, that you'll find nowhere else on the Internet.

We've got "The Next Best Thing" for impersonators, "So You Think You Can Dance" for dancers, "American Inventor" for the clever and "America's Got Talent" for everyone else.
Pic of the Day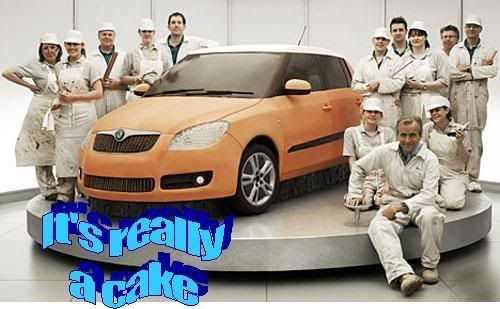 ---
Quote of the Day


Classic Quotes by Ralph Waldo Emerson (1803-1882) U.S. writer

A great man is always willing to be little.
---------------
A great part of courage is the courage of having done the thing before.
---------------
A hero is no braver than an ordinary man, but he is brave five minutes longer.
---------------



Web Site Worth the Visit
THE WORST RESUME EVER

In the summer of 1992, I was working a Saturday afternoon at the bar when a guy walked in and handed me this resume. The first thing I noticed was that it was ten pages long, about nine more than a resume should be. Then I started reading it. All I can say is, when you think you've met the most whacked out nut-job that God could possibly make, in comes ol' Joseph E. Evans

ABOVE SITE HERE


TIDBITS
+----------------- Bizarre Medical Record -----------------+
Statements

"The skin was moist and dry."

"The patient lives at home with his mother, father, and pet turtle, who is presently enrolled in day care three times a week."

"The patient was in his usual state of good health until his airplane ran out of gas and crashed."

"The patient was to have a bowel resection. However, he took a job as stockbroker instead."

"While in the emergency room, she was examined, X-rated and sent home."

"When she fainted, her eyes rolled around the room."

"She is numb from her toes down."

"The baby was delivered, the cord clamped and cut, and handed to the pediatrician, who breathed and cried immediately."


Top Five Finalists Named in "The Next Best Thing"
"The Next Best Thing" is a reality show where celebrity impersonators get a chance to show off their talent. Some of these folks were darn good and all in all it was an entertaining series. I'd watch it again if the contest is televised again.
The Paris Hilton impersonator did a great job and, indeed, she did make it to the top five celebrity impersonators....all of whom will be going to Las Vegas. Below a short video of the Hilton impersonation. Check out this excellent imitation and think of the REAL Hilton and that joke of a Larry King interview.
The semi-finalists for "The Next Best Thing" are:
-Tina Turner
-Elvis
-Paris Hilton
-George W. Bush
-Lucy Ball
A montage of some impersonators below.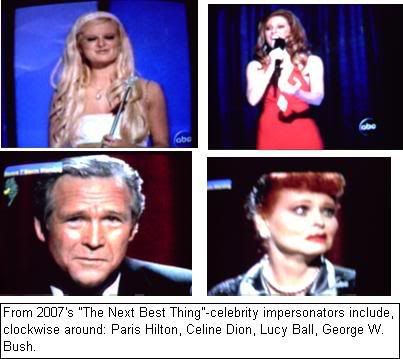 "American Inventor"- New York and Inventions for the Toilet
In honor of this series, which I quite enjoy, below a list of bizarre inventions that crossed my Ebox. None of these were part of this reality show. Gotta love that one with the aromatic underwear.
+------------------- Bizarre Inventions -------------------+

1. The Tonya Tapper - A personal security steel club named after the notorious skater; suitable for all knee whack- ing purposes.

2. Sweet Jesus Chocolate - Tasty milk chocolate crucifix candies that ooze red jelly when bitten.

3. Insecticide Pantyhose - Bug resistant pantyhose sure to repel spiders, cockroaches, [and probably dates.]

4. Artificial Spray-On Dirt - For the yuppie whose tired of looking wuss in his luxury S.U.V. This is sure to provide that rugged four-wheeling look.

5. Drive-Through Window at Funeral Homes - For the more somber drive-by.

6. .45 Semiautomatic Telephone - A novelty phone sure to please the darkest sense of humor. The caller must hold the gun against their head to make a call; let the fun begin.

7. Bird Diaper - For Polly when potty training is not an option.

8. Snif-T-Panties - Women's underwear with built in fragrance to capture the right mood; scents include rose, banana, pickles, pizza and, of course, whiskey.
So okay, American Inventor goes to New York and reviews the contenders looking for $50K of seed money to get research and development for their invention.
There were a couple of toilet items and goodness knows we have yet to begin to re-invent this most necessary item. One invention for the toilet was a device that would allow putting the seat down with the mere press of one's foot. Another allowed men to urinate into a Rube Goldberg type of device that allowed the seat to remain down. All for the ongoing fights between men and women who often, alas, must share toilets.
We also had ear plug balloons and the one invention that caught my eye as a real winner-the backless bra.
Finally one invention caught the judge's eye and I was a bit intrigued-The Wingman.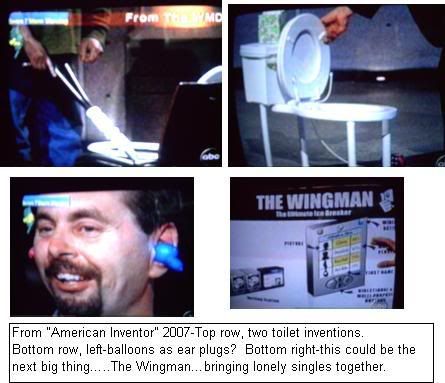 The backless bra was a most intriguing invention that my own wise self would buy in a minute. One major attraction to this device was the demonstrator, a buxom woman who wore the invention herself and she looked very nice. Yes it's a bra designed to be worn with backless apparel. As of now the only thing I know of to support one's boobs in such an outfit are stick-on sort of things which mostly prevent an errant nipple from showing through clothing. Heaven help the female with an ample bosom.
Below, a video of the backless bra's inventor.
As for The Wingman, it's a device that is a bit complicated. The premise, to keep it short, is that one would carry this "palm pilot" type of device into a nightclub or any other gathering place for singles. This device would already have stored in it information about one's own fine self. Upon entry and after surveying of romantic partner possibilities in the surround, The Wingman allows the owner to enter a code that would allow others in the area to access it. Upon access one can learn various personal items about the person of interest PLUS find out if that person might also be interested back.
The judges thought that upon development it would be the sort of thing that would be picked up by cell phone programmers and goodness knows with the new iPhone there are great possibilities!
Links to prior reviews of American Inventor
Premiere Show
Lots of toilet inventions 6/27/07
"America's Got Talent" Goes to New York
On the evening of 6/26/07 a two hour session of "America's Got Talent" in New York was featured on NBC and there were many intriguing, silly, goofy and just plain dumb entries to this talent reality series.
We had some hilarious entrants who surely entered on a hoot and without a hope of winning. In the "no hope" category, we saw a fellow named, we're not making this up, "Thoth", a sexy/techno boy, the famous "Pennsylvania Hand Band", "Leonid the Magnificent" and a return from last year who didn't make it through again this year.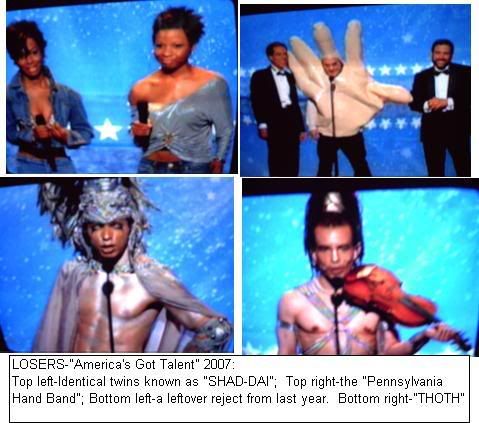 Below, a video of one hopeless entrant.
On the winning side of the ledger on this evening, we had a truly great group-Ahmir-which sang sweet songs of harmony long ago lost in the earblast known as rap music. Also, a contender from my own home state of Maryland, a Julienne Irvin, sang some country music that was joy to the ears.
A fellow with some sort of severe arthritis led a group of street dancers, The Great Throwdini scared us with knifes and finally, my absolutely favorite of all-"The GLAMAZONS"-a group of plus sized gals that oozed sex appeal and brought the place down.
Below, a video clip of this sexy group.
Links to prior reviews of America's Got Talent 2007:
NBC's "America's Got Talent" Web Site
America's Got Talent Premiers 6/5/07
The 6/19/07 episode
New York 6/26/06
"So You Think You Can Dance" Down to Seven Couples
Eight couples performed. The bottom three were announced. All six entrants from the bottom three couples danced for their lives.
It was the evening of 6/28/07 and the votes for the prior evening's dances were counted. The dreaded elimination round would cull one more male and female from the contenders, leaving 14 would-be dancers, or seven couples. Five million Americans had voted to their favorite dancers.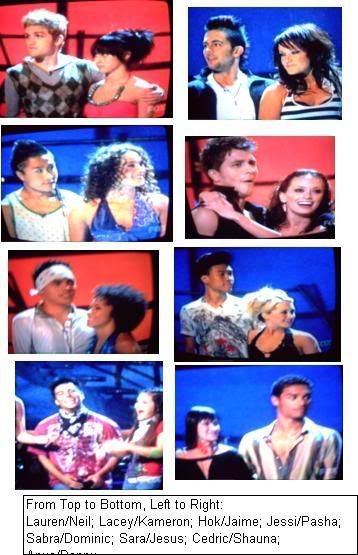 Lauren and Neil danced the tango. The judges thought they were awkward and, indeed, this duo was part of the bottom three in terms of votes from the viewing public. Lacey and Kamaron did a Quick Step which the judges found entertaining. This duo was safe as voted on by the audience. Jamie and Hok performed a Jazz routine that the judges thought was beautiful and this couple too was safe on the night of elimination.
Sabra and Dominic danced a Rumba and one judge said the dance was so hot the place was in "need of a fire department". This couple was declared safe. Sara and Jesus performed a Hip-Hop routine and this duo was one of the bottom three. Jessi and Pasha were supposed to perform a cha-cha. Jessi suffered some sort of physical event that had her in the hospital. Pasha danced with a substitute and by virtue of her inability to perform, Jessi would have to dance for her life in the elimination round. Pasha was declared safe for the evening.
Cedric and Shauna performed a contemporary routine and not one judge liked the routine. Interestingly, this duo was safe by edict of the viewing audience. Finally, Anya and Danny did a hip-hop routine and the judges declared them a "dream team" but not so fast. The viewing audience declared them in the bottom three.
Thus seven dancers would be doing a solo dance and the judges would decide which female and which male would be going home. The seven dancers would be:
Sara, Jesus, Lauren, Neil, Jessi, Danny and Anya.
Below two videos of performances. One is of a couple and the other is Neil doing his solo routine. Neil is one of my faves in this series and he's definitely the cutest male.
In face Neil did go through to the next round and the judges too thought his solo routine was great. The judges didn't think Jessi performed well on her solo routine and though no one said it, way I figure she was sick anyway. Jessi was sent home. Jesus was sent home along with her.
So the top 14 of the 2007 series of "So You Think You Can Dance" are, as of this writing:
Shauna
Lauren
Neil
Cedric
Pasha
Sara
Jaimie
Hok
Anya
Danny
Kameron
Lacey
Sabra
Dominic
Links to prior reviews of So You Think Can Dance 2007:
The Top 20 for 2007
Down to Eight
Jessi Gets Sick and Is Sent Home
More TV Reviews HERE
===============
Add POST to Technorati Favorites
=======================