It's winter now and time to do some cooking.

We finally have the BEST:
cookie
meatloaf
shrimp fettucine
and pumpkin pie

Also, a TV review of "The Parent Trap". The premise of this movie re-made from Hayley Mills' 1961 film, is not only unbelievable, it's downright child abuse!
Pic of the Day
---
Quote of the Day



Wise and Anonymous

Why is it that at class reunions you feel younger than everyone else looks?

No one has more driving ambition than the boy who wants to buy a car.

There are no new sins; the old ones just get more publicity.

Think about this..., No one ever says "It's only a game" when his team is winning.

I've reached the age where the happy hour is a nap.

Be careful reading the fine print. There's no way you're going to like it.

Do you realize that in about 40 years, we'll have thousands of old ladies
running around with tattoos? (And RAP music will be the Golden Oldies!)

After a certain age, if you don't wake up aching in every joint, you're probably dead.



Web Site Worth the Visit
Invite Wildlife Into Your Yard

My pet passion-the notion that wildlife reserves are not needed. For our own eco-systems make fine places for wild life. Check out this site for more information- HERE
| | |
| --- | --- |
| | TIDBITS |

Settling on the Best
MEATLOAF
For the rest of my far too few years on the earth, I have a plan.
The plan is to first identify those food items that I most enjoy. Second, I must find the best way to prepare those favored foods.
For mine own busy and happening self, I do not need extreme speed but more importantly, spending hours and lots of money is not ideal and certainly doesn't make a prepared foodstuff better. I'll compromise a little on perfection for convenience is what I'm saying here. But my compromise is small and the result must meet my fine criteria.
Today, I have identified four recipes that meet all my criteria for fine food. Details below.
Meatloaf is one of my favorite meats and I know how I like it. Used to be a time that my vision of meatloaf was a pile of ground meat sprinkled with seasoned salt shaped into a loaf shape, packed into a loaf pan then covered with some sort of tomato sauce.
This erroneous vision resulted in many strange lumps of meat, some dry as a bone, some greasy, depending on the ground meat I'd willy-nilly picked out of the grocery meat case.
Which brings us to problem number one...the meat one uses to prepare meatloaf really matters! There's a gazillion kinds of ground beef and meatloaf recipes often call for a combination of beef, pork and lamb.
I'd long ago given up the meatloaf made with different meats. I'd also identified, in my travels, the best meatloaf one can buy on the road.
The meatloaf at Boston Market is, by me, the best meatloaf and soon enough this became my ideal.
I'd come across lots of recipes that claimed to be the equivalent of Boston Market but the results were not.
Below, tada, drum ruffles and horn blare...the meatloaf that is the best of all.
Easy Pleasing Meatloaf

Prep Time: 10 min
Total Time: 1 hr 10 min
Makes: 8 servings

2 lb. lean ground beef
1 pkg. (6 oz.) STOVE TOP Stuffing Mix for Chicken
1 cup water
2 eggs, beaten
1/2 cup KRAFT Original Barbecue Sauce, divided

PREHEAT oven to 375°F. Mix all ingredients except 1/4 cup of the barbecue sauce.

SHAPE meat mixture into oval loaf in 13x9-inch baking dish; top with remaining 1/4 cup barbecue sauce.

BAKE 1 hour or until cooked through (160ºF).
The recipe above meats all the criteria for the best preparation of one of my favorite meals. It's simple yet keeps an element of home-made. Ingredients are few but all accomplish what they are supposed to do.
Notice this recipe calls for a pre-made stuffing mix. This gem is a stroke of genius. For meatloaf "fillers"-that dry ingredient required for a non-greasy firm loaf of meat- can vary from bread crumbs, to actual bread to crushed saltines. I like the notion of just throwing a package of stuffing mix into the meat mix. The stuffing mix add lots of flavor with the added herbs in the package, and the very dry pieces of stuffing made a fine fat absorber for the meat mixture. Two eggs bind it all together and a cup of water helps to "fatten" up the stuffing mix.
This meatloaf is tasty either heated and covered with a gravy or within a crusty roll as filler for a sandwich.
SHRIMP FETTUCCINI
A pillow of al dente pasta, some tender shrimp, a bite of hot sauce, all covered with a simple sauce of flour and butter.
This recipe makes it to my best for one of my favorite meals, which technically would be any pasta, a comforting but un-intrusive sauce, and tender shrimp. Some call the dish "Shrimp Alfredo". This particular recipe calls for fettuccini as the pasta and it's my choice because of all the different sorts of pasta that I've used, Fettuccini is my favorite.
Fettuccini has some volume to it, being a pasta thicker than spaghetti yet still long enough to wrap around a fork. You want to use frozen UNCOOKED shrimp for this recipe. You can use cooked shrimp, the pink kind, but if so thaw the shrimp and add at the last minute.
I get a three pound block of frozen uncooked shrimp at the Wal-Mart. Each time I made this dish I hack off about a pound, let them thaw, then de-vein and remove tail as required. I've found these shrimp to be the best sort for this meal. As for the green onions, I've yet to make this recipe and bother with them. But I do like the things so one of these times I'll add them in.
1 bunch green onions
1 stick butter (1/4 lb)
1 lb. shrimp
3 heaping tablespoons flour
1 pint half and half
3 tablespoons hot sauce
*salt, garlic powder, and Tony's Cajun Seasoning

Chop onions, sauté in butter. Add shrimp. Season with salt, Tony's Cajun Seasoning, and garlic powder, to taste.

Add flour Stir in half and half (half milk and half cream).

Bring to a SLOW boil or simmer, and continue to cook for 10 minutes over low heat, while stirring occasionally.

Stir in hot sauce; start out with 2 tablespoons, then taste and add more if you like.

Add pasta, serve and enjoy!
Perfect Pumpkin Pie
I didn't name this recipe or did I insert the advertising blurb included in the first line. However, the addition of that can of sweetened condensed milk to the canned pumpkin is just the right addition. Forget sugars, both white or brown. I used a spice called "pumpkin pie spice" alone. A couple of eggs and a crust purchased from the refrigerated section of the grocery, one of those roll-out jobbies, and boom...it tastes exactly like you spent hours.
I never bothered with any of the topping below the recipe but they're there, so use them if of a mind.
The one and only. A traditional Thanksgiving favorite made more delicious with EAGLE BRAND(r).

Servings: Makes one (9-inch) pie
Serving Size: 8 servings
Nutrition: not available
Prep Time: 15 minutes
Cook Time: 50 minutes
Total Time: 60 minutes

Ingredients
1 (15-ounce) can pumpkin (about 2 cups)
1 (14-ounce) can EAGLE BRAND(r) Sweetened Condensed Milk (NOT evaporated milk)
2 eggs
1 teaspoon ground cinnamon
1/2 teaspoon ground ginger
1/2 teaspoon ground nutmeg
1/2 teaspoon salt
1 (9-inch) unbaked pie crust

Instructions
Preheat oven to 425°F. Whisk pumpkin, EAGLE BRAND(r), eggs, spices and salt in medium bowl until smooth. Pour into crust. Bake 15 minutes.

Reduce oven temperature to 350°F and continue baking 35 to 40 minutes or until knife inserted 1 inch from crust comes out clean. Cool. Garnish as desired. Store leftovers covered in refrigerator.

Notes: Favorite Toppings

Sour Cream Topping: In medium bowl, combine 1 1/2 cups sour cream, 2 tablespoons sugar and 1 teaspoon vanilla extract. After pie has baked 30 minutes at 350ºF, spread evenly over top; bake 10 minutes.

Streusel Topping: In medium bowl, combine 1/2 cup packed brown sugar and 1/2 cup all-purpose flour; cut in 1/4 cup (1/2 stick) cold butter or margarine until crumbly. Stir in 1/4 cup chopped nuts. After pie has baked 30 minutes at 350ºF, sprinkle evenly over top; bake 10 minutes.

Chocolate Glaze: In small saucepan over low heat, melt 1/2 cup semi-sweet chocolate chips and 1 teaspoon solid shortening. Drizzle or spread over top of baked pie.
NUTTY CHOCOLATE CHIP COOKIES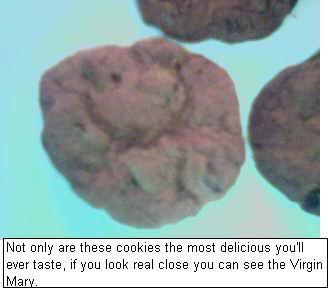 Chocolate Chip cookies should be nominated as the food all of America loves.
Name me someone who doesn't love chocolate chip cookies and I'll show you a communist.
Note that the recipe below, the BEST recipe for choco chip cookies EVER, is but a simple thing. It's not Mrs. Fields or Famous Amos. It's a simple, proven recipe that will crank out the best choco chip cookies and the compliments will keep pouring in.
INGREDIENTS:
1 1/4 cups flour
1/2 teaspoon baking soda
1/4 teaspoon salt
1/2 cup butter or margarine, softened
1/2 cup firmly packed brown sugar
1/2 cup granulated sugar
1 egg
1 teaspoon vanilla extract
1 package (6 oz.) semisweet chocolate chips
1/2 cup chopped walnuts (optional)

DIRECTIONS:
In a bowl stir together flour, baking soda, and salt to combine thoroughly; set aside. Preheat oven to 375 degrees.

In mixer bowl combine butter and sugars; beat until fluffy and well blended. Beat in egg. Add vanilla and mix well.

Gradually add flour mixture until just blended. Stir in chocolate chips and walnuts (if used). Drop by rounded teaspoons, placed well apart, onto lightly greased or nonstick baking sheets. Bake until cookies are well browned (12 to 14 minutes). Cool on wire racks. Yield: Makes about 30 2 3/4 inch cookies.
DO use parchment paper to bake these things. And DO double or triple the recipe if more cookies are required.
MORE COOKING/HOME ARTS HERE
DISCLAIMER: Movie Reviews

I never see a first-run movie so any movie reviews I do are likely older ones. But if you're looking to rent a DVD for the weekend, or just want a new perspective on a movie you remember fondly, or not-so-fondly, read on.

Review Movie "Parent Trap"
Starring Lindsay Lohan, Dennis Quaid, Natasha Richardson and Elaine Hendrix, this movie is a remake of the
one made famous by Hayley Mills in 1961.
I loved the first version of "The Parent Trap" as I was the perfect age to watch such a film and when I grew up I desperately wanted to be Hayley Mills.
This time I sat and watched the film with a hope to fond memories and perhaps a smile or two. My adult self was absolutely horrified.
The plot to this movie is not only unbelievable, it's tantamount to outright child abuse!
IMDB link to THIS version of "Parent Trap".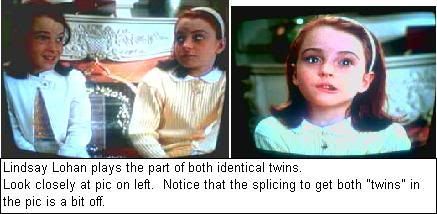 My memories of the first version of this movie are vague as I was only 11 years old at the time and, as with most children this age, I was more enamored of the intriguing twins and pretty Hayley than I was with the movie's plot. Thus I did not remember just why the identical twins were separated. My memories of the first movie involved the shenanigans the twins got into together and the lengths they went to get their parents reunited.
At this viewing, I chewed my popcorn and watched the movie unfold. Right from the start I wondered why the twins had been separated at birth; what possible reason would ANYBODY have to split up sisters, much less identical twins.
It took a while for the plot to unfold as first the twins had to discover themselves at camp. At the point where the two young ladies realized that they were, in fact, twins, I began to ponder why they had been kept apart all their lives.
"I bet the parents didn't know they had twins," I said to my husband, who had also seen the film as a child. Husband told me that Hayley Mills was the very first object of his burgeoning male lust. Heh.
Husband told me, NO, that the twins had been separated by their parents at birth as part of their divorce agreement. I responded that he was nuts, that surely no one would write a plot involving two people who separated a pair of identical twins, never to reveal to them that the other existed mind you.
Thus I was convinced that soon we would discover that some evil ne'er-do-well managed to convince the parents that each baby that they kept had been the one and ONLY baby born.
I could not get my head around any notion that two adult, intelligent people would get such an idea as to split a set of identical twins, any kind of siblings when I thought about it. And if such a split was the best manner to handle a divorce, or so I contemplated, surely they wouldn't keep the other's very existence a secret. Such a thing is clearly illogical.
Not to mention, please don't forget, that neither one of these twins had ever laid eyes on the non-custodial parent. Hallie Parker had never seen her mother and Annie James had never seen her father. Or perhaps that's reversed.
So these kids were not only denied any knowledge of the existence of a twin sibling, they also were denied any association with either their mother or father.
Simply unbelievable. Downright cruel when you think about it.
The twins came up with the idea of switching places upon return home from the camp where they discovered each other. This way each would finally meet the other parent that had been denied them their entire lives.
At some point I began to realize that yes, indeed, this movie, aimed at children, did very much try to advance the notion that two parents who should have had their childrens' best interests at heart, rather cruelly denied each of them both a parent and an identical twin sibling for their entire lives up to the point where they discovered this their own selves.

There was a bit of a plot in that the father was all involved with some evil woman and this tidbit caused the twins anguish. It was their plan to reunite their mother and father although they rightfully should have hated their parents' guts for what they did.
I suppose I'm making too big a deal about a damn movie. In the end all lived happily ever after and Lindsay Lohan did make the cutest pair of identical twins, almost as cute as Hayley Mills.
Frankly I'd be a bit reticent to allow my granddaughter to watch this movie. I'm serious. I'd be concerned that she might think that splitting siblings up and denying children a parent is some sort of norm or, what with Hollywood putting the whole thing in a movie, she'd perceive it as perfectly okay.
Identical twins are notoriously close, as one might imagine. Splitting identical twins apart is especially heinous.
This was a fine movie to watch, for myself at least. Adults who remember the Hayley Mills' version of this movie will enjoy revisiting this cherished film of their youth.
Beyond this, before allowing children to watch the thing I'd tell them in advance that it's all fantasy, that no one would ever do what the parents in this film did.
=======================